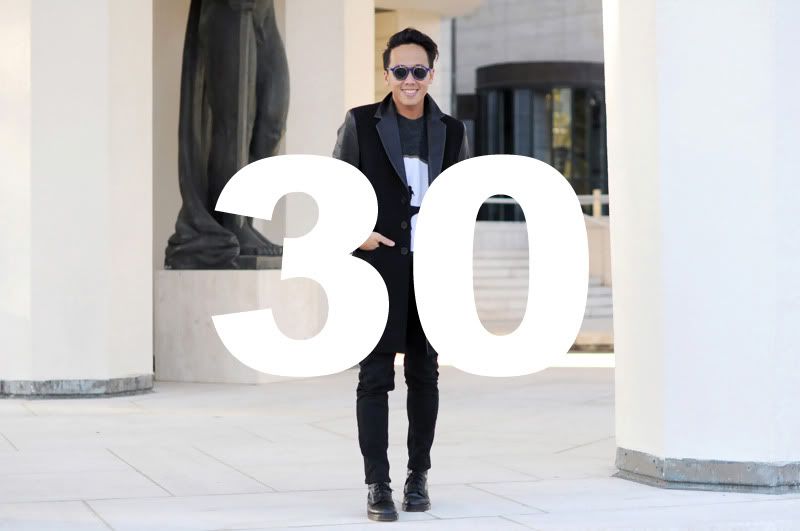 //
Screaming… I am 30 now. If I am a product, there will be "Made in 1982" printed on my butt, no doubt. Some people said that I looked younger than my age every time I told them how old am I. Sure, not easy believing if they are honestly thought like that or it is one social way and rule when talking about age.
I must give huge thank you to my parents for their good genes and all the love, also from people around me.
Talking about beauty or 'forever you', shall I run to the beauty shops to buy all those anti-aging creams just like doing my weekly groceries? Maybe… Or we can just start accepting ourself as human, we are getting old and we change.
Leandra posted Burning Questions around a week ago, it was fun to do. But no, even you are already exist thirty years in this world you will not always have answer on everything. I made it, I can answer all of the questions.
The Proust Questionnaire:
Your favorite virtue. - Patience & Inner strength
Your favorite qualities in a man. - Protection and sense of humor.
Your favorite qualities in a woman. - Softness and nurture
Your favorite occupation. - Actually, I love to write, doing street style, visiting shows and events, maybe it's PR & Marketing.
Your chief characteristic. - Achiever
Your idea of happiness. - No matter where, with the love ones drinking wine.
Your idea of misery. - Having my migraine
Your favorite color and flower. - White and Chrysanthemum
If not yourself, who would you be? - Nobody, just me maybe a bit taller.
Where would you like to live? - Paris or Milan, or both
Your favorite prose authors. - Dan Brown
Your favorite poets. - Shel Silverstein "Wierd-Bird"
Your favorite painters and composers. - Never thought about it
Your favorite heroes in real life. - Steve Jobs
Your favorite heroines in real life. - Oprah
Your favorite heroes in fiction. - Superman
Your favorite heroines in fiction. - Wonder Woman
Your favorite food and drink. - Javanese Fried chicken & Hot sauce, Ice tea
Your favorite names. - Van der Woodsen
Your pet aversion. - ??? I love pets.
What characters in history do you most dislike? - Hitler and his guys.
What is your present state of mind? - Happy and Calm
For what fault have you most toleration? - being late
Your favorite motto. - "Do not dwell in the past, do not dream of the future, concentrate the mind on the present moment." Buddha
What are your answers, leave them for me on the comment-box.
//